Congratulations to Mihaela Lordache and David Flynn of Belleville Brûlerie, winners of The Milan Coffee Festival's first-ever Roast Masters™.
Taking place from 30 Nov – 2 December at new venue Superstudio Più, the competition was at the festival's centre, with twenty-two roasters from across Italy and Europe attempting to impress judges Anne Lunell, Chiara Bergonzi and Davide Roveto.
The competition was comprised of three disciplines: The Single Origin, in which the roasters presented to the panel their unique roasting profile of the same green beans that all roasters received a month beforehand; The Espresso Blend, where each roaster was given ten minutes to present two espressos, two dairy coffees and two non-dairy, plant-based coffees and explain both the taste profiles and the commercial rationales behind their blend; and The Pour-Over, where the roasters were asked to consider how far can you take coffee? and demonstrate flair, creativity and innovation with a pour-over method of their choice.
Though many roasters proved their expertise on each discipline, such as I Druper Coffee and Five Elephant, there could be only one winner:  Belleville Brûlerie. The Paris-based roasters were distinct winners, with articulate and informative presentations, delicately balanced cups, sophisticated use of the Faema E71E, and an inventive espresso and calvados blend with a kick.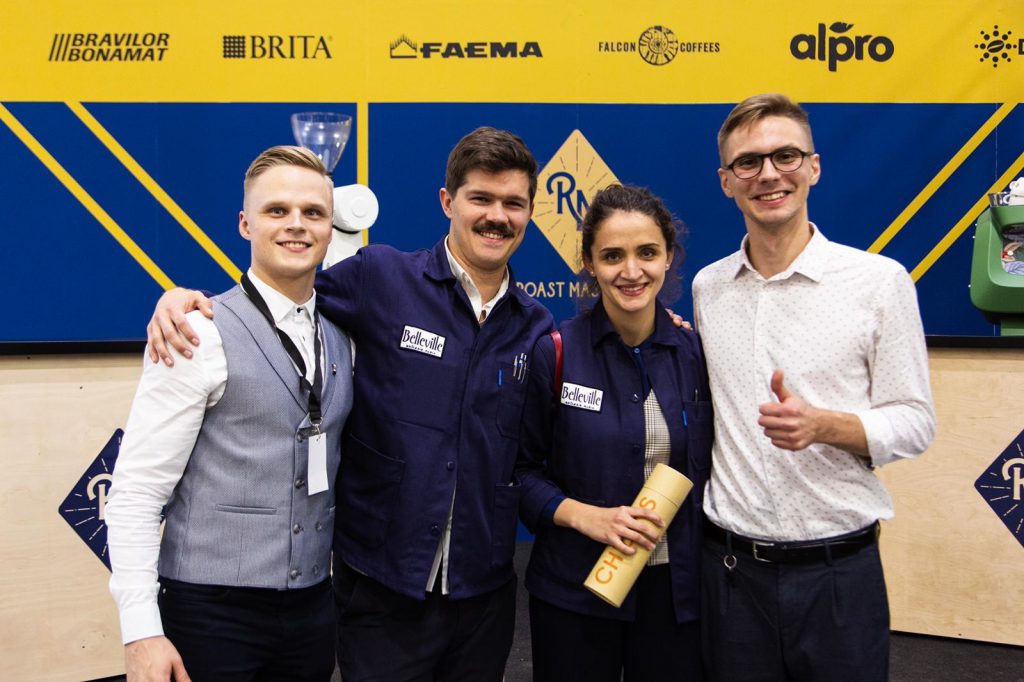 Winners Belleville Brûlerie with runners-up Kalve Coffee. Photo by Specialty PaL.
"With our performance, we really wanted to give the judges and the audience the impression that they were visiting us in one of our boutiques", said David, Bellville's co-founder and Director of Coffee. "We wanted a sense of relaxed hospitality, and I think that came through. It was an honour to win." As well as the coveted title, both Mihaela and David won a trip-to-origin in Peru next year, courtesy of Falcon Coffees, who also kindly provided the green beans.
With Latvia's Kalve Coffee and Italy's Peacocks Coffee Roasters taking silver and bronze respectively, the Roast Masters™ podium beautifully reflected the meeting of coffee cultures the festival is all about.
Belleville particularly outshone in the third discipline, The Pour Over, in which they decided to frame their presentation around the notion of time, considering how fast or slow, rather than far, one can actually take coffee. Head Roaster & Production Manager Mihaela explained their approach and preparation for the discipline:
"Great coffees take time and trust, on all sides of the industry. We shared the coffee that's one of our longest-lasting partnerships so far, produced by Neptaly Bautista in Santa Barbara, Honduras. His is one of only two coffees we opened Belleville with, almost 7 years ago, and the first specialty coffee bag I ever bought as a starting barista, back in the day. We discovered this gem through our importers Collaborative Coffee Source and it has been my greatest joy and honour to roast and brew it since. 
We brewed this coffee on the December dripper, the only dripper I know that allows a control of flow rate independently of the amount of coffee, grind size or filter choice, through a variable opening base. We made 2 different brews that we then combined for the final cup. First, a concentrated 30 gr for 300 ml in 1.5 min to emphasize the malic acidity and explosion of florals and citrus this coffee has. Second, a longer 30 gr for 500 ml in 3.5 min brew. This brought out all the amazing tropical fruit notes and intense sweetness Neptaly's coffee has. We then combined these two extractions to create the final cup, a layered complex mix of violet florals, blood oranges, dark honey, tropical ripe fruit, red apple acidity."
The next Roast Masters™ will take place at The Amsterdam Coffee Festival, from 13-15 March 2020.